David Hoag
(The Man Born Without a Chin)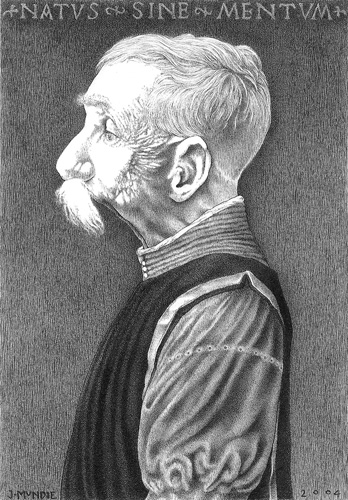 Pen and ink, 8.75 x 6 inches, 2004


David Hoag's claim to fame is that he was allegedly born without a chin. A native of Canandaigua, New York, Hoag's unusual condition earned him a brief career in the sideshow where one presumes he performed tasks that those of us with intact mandibles take for granted - chewing, for instance. What he lacked in a chin he made up for with a magnificent moustache.

Was this Chinless Wonder a popular draw? I cannot really say as there is not much information to be found about David Hoag.

My tribute to this dubiously entertaining performer is based on one of Hoag's pitchcards and two mid-fifteenth century portraits of Lionello d'Este, Marquis of Ferrara.



All Images and Text © James G. Mundie 2004 - 2018