The Big Swallow - 3 September 2004
Not enough people to break the record set at the first Sideshow Gathering, but still a formidable display of sword swallowing talent at the third installment. Left to right: Tyler Fyre of the Lucky Devil Sideshow, Dan Meyer (a.k.a., Halfdan, the Human Dipstick) of the Sword Swallowers Association International (S.S.A.I.), master of ceremonies Aye Jay, Natasha Veruschka (behind Aye Jay), Philly's own John "Red" Stuart, and Charon Henning. During this event, Natasha broke an S.S.A.I. record by swallowing thirteen swords simultaneously. Yikes! In early 2005, this feat was officially recognized by Guinness as a new world record.






If you didn't attend the 3rd Annual Sideshow Gathering, you really missed a great time. And I hope you had a good excuse. No, really. Some of the best sideshow performers in the business were there - in Wilkes-Barre of all places! - doing their thing, and sideshow legends such as Ward Hall and C. M. Christ were on hand to cut up jackpots and direct the mayhem.

For those who don't know, the Sideshow Gathering is an opportunity for sideshow performers and fans to mingle over Labor Day weekend. It allows for carnies to get together, get reacquainted, and watch other performers do their shtick. For the fans, they get to see a whole bunch of great acts packed into one place for the space of a weekend. The Gathering was started as a labor of love by Franco Kossa, and this year he was assisted by the good folks at Sideshow Central, and a bunch of folks (yours truly included) who donated some really cool items for a raffle to support the event. Where else could you hope to get the bed of nails Jim Rose used on tour? Or, how about a bottle of needles used by Tim Cridland in his human pincushion act?

This year, C. M. Christ (Ward "King of Sideshow" Hall's longtime partner in the World of Wonders) was honored with a lifetime achievement award for his many years of work in the sideshow business. C. M. delighted all of us with stories about the giant Eddie Carmel and other performers he has known. That man could keep cutting up jackpots until Tuesday, but in the meantime, there were amazing feats to witness on the stage - performed by the likes of Tim "The Torture King" Cridland, Red Stuart, Charon Henning, The Bindlestiff Family Cirkus, The Great Nippulini, The Crispy Family Carnival, Natasha Veruschka, Ses Carny, Sideshow Bennie, The Lucky Devil Sideshow, and more.

I managed to capture some of this madness with my camera, and I present my photographs here for your edification.


RED STUART

Red Stuart climbs the ladder of swords
Risking life and limb (and especially the soles of his feet), Red climbs a razor sharp ladder of swords. Ouch!




A hard way to make an easy living...
Carny + staple gun + folding money = entertainment! Patrons line up to staple legal tender to Red's body. The bigger the bill, the better the spot. Cheapskates take the torso, but that's a twenty dollar bill in the middle of Red's forehead. Double ouch!



THE CRISPY FAMILY CARNIVAL

Crispy gets lightly toasted
While Crispy spits and eats fire, his protege Dragonfly (a.k.a. Firefly) looks on.




NATASHA VERUSCHKA
Queen of Swords

Natasha performs the danse du ventre
Natasha Veruschka displays her exotic talents for the crowd.




Down the hatch
Natasha proves they don't call her the world's only belly-dancing sword swallower for nothing.




Now you see it...
Natasha prepares to swallow 24 inches of glass and poison gas.




Now you don't!
Going where few sword swallowers have gone before, Natasha swallows the entire length of the neon sword. This act is extremely dangerous, and several sword swallowers have died when their swords burst inside them. Another danger is that if the neon were to get too hot, it would fuse to Natasha's esophagus. Definitely don't try this at home, kids.




THE GREAT NIPPULINI
World's Strongest Nipples

The 7-10 split
Philadelphia's Nippulini suspends 16 pounds of genuine Brunswick bowling ball from his mighty nipples. I don't even want to know how or why he discovered he could do this.




Need a light?
With a thirty-pound electric grinder suspended from his chest, Nippulini strikes some sparks to light the cigarettes of Façade from the Crispy Family Carnival and Sideshow Bennie. What would the Surgeon General have to say about this?




ZAMORA
The Torture King

Mind over matter
Tim "Zamora" Cridland took time out from his popular run in Las Vegas to show the folks in Wilkes-Barre his "yogi internal flossing" act. Tim swallows a length of twine, and then with the aid of a scalpel and forceps, extracts the string from his abdomen. It's good for what ails ya!




Ready... set...
As if lying on a bed of swords isn't dangerous enough, the Torture King solicits the help of the lovely James Taylor (of Shocked & Amazed!) to place a concrete cinderblock (carefully soaked in bum's urine, we're told) on his chest.




Go!
Oh, the humanity! With a swift swing of a handy sledge hammer, James Taylor smashes the cinderblock to smithereens, and Zamora rises form his bed relatively unscathed.




The Human Pincushion, part I
Okay, that's gotta hurt! Tim Cridland pushes a shishkebob skewer through his forearm.




The Human Pincushion, part II
One is never enough. A second skewer gets poked through Zamora's bicep.




The Human Pincushion, the finale
Zamora sends 'em home queasy with a skewer through his throat.




THE LUCKY DEVIL SIDESHOW
Tyler Fyre, Magic Brian and Insectavora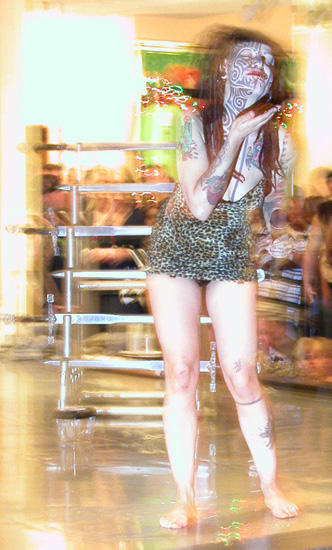 Insectavora's high protein diet
The sultry Insectavora displays her unusual culinary habits by consuming a handful of hapless invertebrates. Neither crickets, nor meal worms, nor earthworms are safe from her ravenous appetite.




Human blockhead, times two
Magic Brian and Tyler Fyre perform the world's only synchronized human blockhead routine. Hey kids, now shoving stuff in your face is twice the fun!




STRANGE CREATURES! ALIVE!!

Well, alive once upon a time, at least
This two-headed calf never needs feeding and works for hours on end without a rest.




Four heads are better than two
Col. Darrel Hunsley 's beautiful two-headed turtles are only slightly more demanding.





If this doesn't help convince you that you need to be at Sideshow Gathering 2005, I don't know what will.