Advertisement for the Siamese Twins, Chang & Eng, 1837
Newspaper advertisement for an exhibition of the original Siamese Twins, Chang and Eng, as it appeared in the Thursday, 16 February 1837 edition of The Globe (Washington, D.C.).

At the time of this advert, the twins were twenty-six years old and in the midst of a three-year tour of the eastern and southern states. Because so many people had already seen them in the preceding years, their audiences and income were beginning to dwindle. Two years later, the twins would retire from the road and use their savings to buy a plot of land in Wilkesboro, North Carolina. That same year they became naturalized citizens of the United States. There they would remain for the next twenty-six years, living as planters with their wives and many children, until economic turmoil in wake of the Civil War forced the twins to go back on the road once again.

The text of this advertisement reads:
THE SIAMESE TWIN BROTHERS


Have the honor to inform the Ladies and Gentlemen of Washington the [sic] they will receive visitors for a short time, at the Globe hotel (MAHER's,) directly opposite the New Theatre, Pennsylvania avenue.

House of admission: From 10 to 12 in the morning, and from 7 to 9 in the evening, and at no other time.

Admittance 25 cents.

N.B. Pamphlets containing an Historical account of the TWINS, with a correct likeness, can be purchased at the room.


No re-admission to the room. Feb 16 – 3t.

My tribute to Chang and Eng Bunker, The Bathers, is to be found here.

[for more information about Chang & Eng, please see Irving and Amy Wallace's biography The Two: The Story of the Original Siamese Twins, New York: Simon & Schuster, 1978]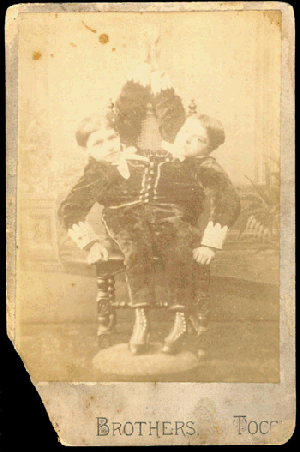 The Brothers Tocci
cabinet card, 6.5 x 4.25 inches, circa 1890
photographer: unknown

Giacomo and Giovanni Baptista Tocci, also known as the Italian Two-headed Boy, were a popular attraction throughout Europe and America from 1878 at the age of four months until their retirement at the age of twenty in 1897.

The dicephalus conjoined twins were born in Locana, Italy, on 4 October 1877. The twins being very small and their mother's pelvis rather wide, there was little difficulty — other than emotional shock — involved in their delivery. The boys had two heads and four perfectly formed arms, but were joined together at the point of the sixth rib and so shared a single lower torso and pelvis with two legs. Initially distraught and appalled by his children's appearance, Signor Tocci soon realized his unique boys could serve as his family's breadwinners.

As the Tocci Brothers grew into healthy youngsters, despite all predictions of an early death, it became apparent that each of the twins controlled the leg on his side. Sadly, due to muscular atrophy and Giacomo's clubfoot, they were unable to stand independently unless they could prop themselves up with their arms. Lack of coordination prevented them from walking without the aid of a wheeled device — instead they crawled about with aid of all six limbs.

The Tocci Brothers — "The Greatest Wonder of Nature" — toured Europe and America ceaselessly until they decided they had had enough of the limelight and retired to live a life of seclusion in a villa near Venice. Rumors state that both boys may have married and had children (which caused a flurry of sexual and legal speculation in French and Italian newspapers), and that they may have still been living in seclusion as late as 1940.

The American author Mark Twain used the Tocci Brothers as the inspiration for his story Those Extraordinary Twins.

My tribute to the boys, The Masters Tocci, is to be found here.


[for more information about the Tocci Brothers, please see "The Tocci Brothers, and Other Dicephali" in Jan Bondeson's The Two-headed Boy, and Other Medical Marvels, Ithaca: Cornell University Press, 2000]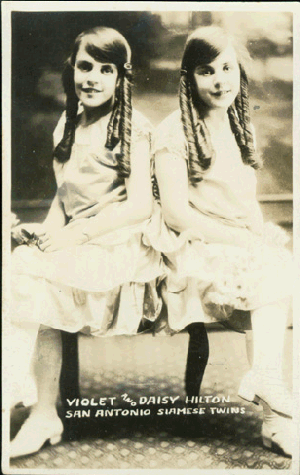 Violet and Daisy Hilton, San Antonio Siamese Twins
real photograph postcard, 5.25 x 3.25 inches, circa 1920
photographer: unknown

The Hilton Sisters were born in Brighton, England, on 19 February 1908, joined at the base of the spine. Daisy and Violet were rejected by their birth mother and were 'adopted' by their midwife, Mrs. Mary Hilton. Almost immediately the girls went on public display in the back room of the Hilton's Brighton pub. The constant influx of tourists to Brighton ensured a steady flow of new curiosity seekers.

As they grew, the girls were constantly reminded by Mary Hilton that she was not their mother and they were instructed to call her "Auntie" and her husband "Sir." The twins were treated as more of a business commodity than a member of the family. Anxious to turn as large a profit as possible, Mrs. Hilton had the girls taught to sing, dance, and play the clarinet, piano and saxophone. A tour of Europe followed, and then a lackluster tour of Australia. It was there that Edith met a carnie named Myer Myers who hatched a scheme to take the girls to the United States. After some difficulty with the customs officials in San Francisco (the twins were initially denied admittance because their conditon was thought to make them medically unfit for entry) the 8-year-old Hilton Twins relocated to San Antonio, Texas, and were refashioned from a carnival to a vaudeville act (hence the new sobriquet on the postcard).

When Mary Hilton died, her daughter Edith and her son-in-law 'inherited' the girls and became the new "Auntie" and "Sir". Their new masters worked the twins like virtual slaves, kept them in emotional and physical isolation, and pocketed for themselves every penny the twins earned. The girls were allegedly led to believe that if they misbehaved they could be deported to England where they would likely be locked away in an institution.

In 1931, the girls were named in a divorce suit following the mutual romance the girls entered into with their advance man. The scandal that ensued might have damaged the Hilton's careers, but it was through contact with the lawyer engaged to defend them against the claim that Daisy and Violet learned of their legal rights and sued their managers for separation. They won the suit against Auntie and Sir, and received a compensation sum large enough that the girls could have lived comfortably for many years. The girls embraced their newfound freedom with passion, throwing lavish parties and generally enjoying the pleasures that had been denied them for so long. Sadly, a string of lovers treated the twins just as badly, financially speaking, as had their former managers. Ill-equipped professionally or emotionally to manage their own affairs, the Hilton Sisters gained and lost several fortunes. Despite the difficulties in obtaining a marriage license in most states (officials interpreted marriage to either twin as an act of bigamy), both girls married and divorced in the 1940's.

The Hilton Sisters were among the highest paid sideshow performers in history, earning up to $5,000 per week during the height of the Great Depression. They appeared on stage with performers such as Bob Hope and Harry Houdini, and on film in Tod Browning's Freaks (1932), and in the excruciatingly awful bio-pic Chained for Life (1950).

By 1962, with their public appeal waning as quickly as their bank account, the Hilton Sisters were touring drive-in movie theaters to promote the re-release of Chained for Life . When they reached Charlotte, North Carolina, their manager abandoned them and the girls remained stranded there. They worked for several years in a local grocery store — one working the register while the other bagged. Apparently, Daisy and Violet kept such a low profile that many customers didn't even realize the girls were conjoined.

Around Christmas of 1968, one of the twins contracted influenza and quickly infected her sister. When the Hilton Sisters failed to report for work or answer the telephone on 6 January 1969, the grocery store manger notified the police, who broke into their rented home and found the twins lying dead over the heating vent in the hallway. The Hilton Sisters are buried under a marker inscribed "Beloved Siamese Twins."

In 1997, a Broadway musical about the Hilton Sisters' lives called Sideshow debuted and quickly folded, despite initial warm reviews.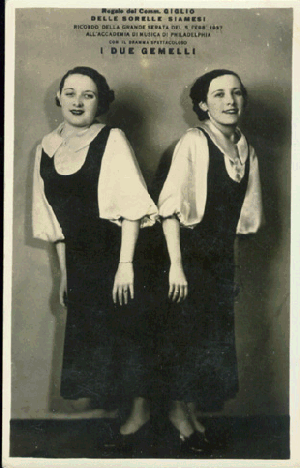 The Giglio Twins (Mary and Margaret Gibb)
real photograph postcard, 5.5 x 3.5 inches, 1937
photographer: unknown

At first glance, I thought the caption for this card indicated these ladies were dubbed with the surname Giglio; however, they are in fact Mary and Margaret Gibb, conjoined twin sisters from Holyoke, Massachusetts.

Mary R. and Margaret S. Gibb were born 20 May 1912 to parents Margaret and John Gibb. Their birth was, understandably, a sensation in the popular and medical press, and from the start the girls were well on their way to a life in the public eye. Bound together at the sacrum (just like Daisy and Violet Hilton), the Gibb's were a popular vaudeville and sideshow attraction for most of their lives. In fact, it was the Hilton's jilted former manager Terry Turner who groomed and presented the Gibb Sisters with the express purpose of rivaling the Hiltons.

Mary stood at 4 feet 8 inches, just two inches shorter than sister Margaret. Pretty and amiable, they performed song and dance numbers at vaudeville theaters and dime museums up and down the eastern coast of the United States. However, it has often been noted that girls were not particularly talented in this regard. Consequently, they never equalled the drawing power of the genuinely talented Hilton Sisters they mimmicked.

In 1930, the Gibb twins commenced a European tour with major stops in France, Belgium and Switzerland. Beginning in 1934, the Gibb twins contracted with Ringling Brothers Barnum and Bailey, where they appeared for several seasons. In 1938, they appeared with Cole Brothers. The Gibb twins would appear with either the Cole or Ringling outfits alternately until their retirement in 1941. In 1942, the sisters opened the Mary-Margaret Gift Shoppe in their hometown of Holyoke. They continued to operate the shop on Portland Street until March of 1949.

The Gibb twins lived the rest of their lives in relative seclusion. On 29 August 1967, the Gibb twins died — Margaret passing first, followed by Mary two minutes later. Autopsy revealed that Margaret had developed bladder cancer, which spread to her sister through their common circulatory system. Mary and Margaret Gibb were buried in the Forestdale Cemetery, Holyoke.

The front of this photograph bears an inscription in Italian as follows:



Regale del Comm. GIGLIO
DELLE SORELLE SIAMESI
RICORDO DELLA GRANDE SERATA DEL 5 FEBB. 1937
ALL'ACCADEMIA DI MUSICA DI PHILADELPHIA
CON IL DRAMMA SPETTACOLOSO
I DUE GEMELLI


Which, as nearly as I can make out translates to: "Gift of Comm. Giglio, The Siamese Sisters, commemorating (or souvenir of) the grand night of 5 February 1937, at the Academy of Music of Philadelphia, with the drama play 'The Two Twins'. Two Twins seems a bit redundant, but there you have it. What the heck was going on in the Academy of Music that night?!

The archives at the Academy of Music do not possess a program for the event, but the booking lists indicate "Comm. Clement Giglio" as the lessee that night, for an "operatic performance". Clement (or Clemente) Giglio was a sort of theatrical jack-of-all-trades: writer, performer, director, producer, librettist, etc. I have found records for two (short-lived) operatic plays on Broadway — one in 1927 called The White Sister, and another in 1938 called Pasquale Never Knew. Perhaps one should never judge an opera by its title, but the latter seems to indicate a sort of broad slapstick and sentimental music hall type of stuff. I can only assume I Due Gemelli was of a similar nature.

I presume Giglio wrote this opera specifically for the Gibb twins (though I suppose the Hilton's could have filled the bill in a pinch), but why then are the Gibb twins not listed by name? As they were appearing in a Giglio production, it is perhaps understandable the Gibb sisters would be listed as members of Giglio's troupe (like the "Solid Gold Dancers" or something of that sort). But the girls were celebrities in their own right, and this opera seems to have been written for them, they being something just a tad bit unusual in the way of twins. It's a bit like Pavarotti being credited as "Prof. Salamander's Wonderful Fat Tenor" — so one wonders whether the Gibb twins were moonlighting and didn't appear under their own names so as to avoid a contract dispute. Only further research will tell.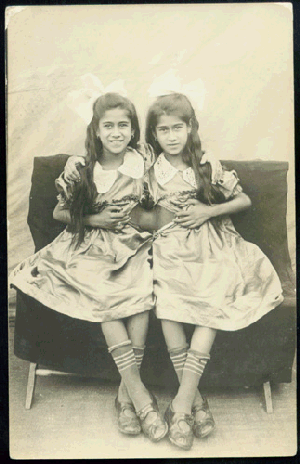 The Mexican Twins
real photograph postcard, 5.5 x 3.5 inches, circa 1915
photographer: unknown

These pretty young girls were identified by Max Rusid as "Mary and Arrita", born in Mexico. Joined together by a band of flesh in much the same manner as Chang and Eng, the twins are said to have died in 1929.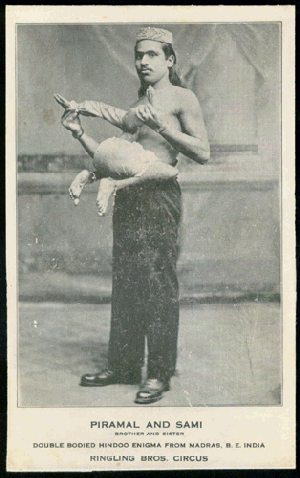 Piramal and Sami, Brother and Sister
Double-bodied Hindoo Enigma
cabinet card, 6.5 x 4 inches, circa 1915
photographer: unknown

Piramal was born in 1888 in Madras, India, with a parasitic twin brother, Sami, joined to him just below the sternum. Piramal began exhibiting himself at a young age, often appearing with a dwarf cousin and two pinheads.

To increase the wonder factor, his promoters began to claim that Piramal's twin was actually his sister (despite that being biologically impossible), and so Piramal would accordingly dress his twin in feminine garb. Piramal and Sami were now billed as "Brother and Sister, Double-bodied Hindoo Enigma" just as in the text on this pitchcard, which was produced in 1915 for Piramal's final tour of the United States with the Ringling Brothers Circus. Afterwards, Piramal retired to India.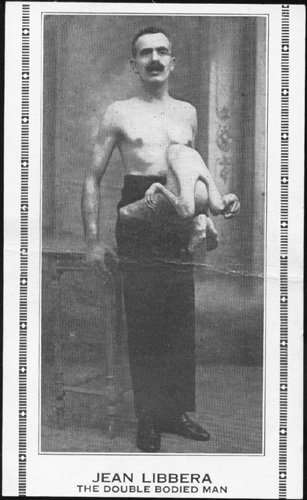 Jean Libbera
The Double-bodied Man
postcard, 5.5 x 3.25 inches, circa 1920
photographer: unknown

Quite similar to Piramal was Jean Libbera, who displayed his parasitic twin, Jacques. Jean and Jacques were born in Rome in 1884 into a family of thirteen children — one of whom also had a parasitic twin but did not survive.

Libbera toured the United States for many years, earning a handsome living from his brother. He married and had four children, eventually retiring from the business and moving with his family back to Italy. Jean (and Jacques) passed away in 1936.






Betty Williams
postcard, 5.5 x 3.25 inches, 1934
printed on reverse: Official Post Card of RIPLEY'S "BELIEVE-IT-OR-NOT" ODDITORIUM - A CENTURY OF PROGRESS - 1934
photographer: unknown

A new feature was unveiled at the 1934 World's Fair: Robert Ripley's very first Odditorium. Ripley, a syndicated cartoonist who was already well known for his "Believe-It-Or-Not" comic strip in newspapers (long before the television incarnation), featured a number of interesting anatomical oddities that year. Among the most spectacular was the infant Betty Lou Williams, who had a parasitic twin sister emerging from her abdomen.

Betty Lou was born Lillie B. Williams on 10 January 1932 to a poor family in Albany, Georgia. At the tender age of two, Ripley paid Betty Lou's parents $250 a week for the priviledge of exhibiting her. She would go on to have a long and successful career in the sideshow, amassing enough money to send all twelve of her siblings to college. Despite doctors' predications that she would likely live a long and healthy life, Betty Lou died in 1955 due to complications following an asthma attack.

My tribute to Ms. Williams, Olympia (Betty Lou Williams) may be seen here.