Living Skeleton
carte de visite, 4 x 2.5 inches, 1883
stamped with photographer's logo on reverse, and signed in pencil "John J. Smith"
photographer: E. S. Dunshee & Co., No. 3. Tremont Row, Boston

The freakshow relished contrasts, many not very subtle. Consequently, the extremely thin were as much in demand for sideshows as the extremely obese. This young man, John J. Smith, was apparently exhibited in Boston alongside his polar opposite, fat boy W. S. Burt.

John J. Smith's condition may have been due to any number of causes, but very often such an appearance was due to glandular disorders, diseases such as scarlet fever and tuberculosis, or extreme muscular atrophy.

One of Smith's most famous skeletal contemporaries was Isaac W. Sprague, who at the age of 38 claimed to be 5 feet 5.5 inches tall and weighed only 46 pounds. Despite this, he married a woman from Massachusetts who bore him three healthy sons.





Fat Boy
carte de visite, 4 x 2.5 inches, 1883
stamped with photographer's logo on reverse, and signed in pencil "W. S. Burt — Enosburgh Falls VT — 14 years 398 lbs"
photographer: E. S. Dunshee & Co., No. 3. Tremont Row, Boston

A fat man — the fatter the better — was absolutely essential for sideshows. An extremely fat boy &mdash the younger and fatter the better — was an especially popular attraction during the Victorian era.

W. S. Burt claimed to be only 14-years-old, but weighed in at a hefty 398 pounds when he exhibited himself in Boston in 1883 alongside the living skeleton John J. Smith.






A Fat Man and a Little Woman
real photograph postcard, 5.25 x 3.25 inches, circa 1910
photographer: unknown

This photograph provides an odd study in scale, in which a rather rotund sailor (probably the fat man on staff) stands over a quite tiny dwarf woman. One hopes he doesn't maintain his weight by consuming his tiny friends!






Happy Jack Eckert
real photograph postcard, 5.25 x 3.5 inches, circa 1910
photographer: unknown

In this photograph, Happy Jack Eckert sits in this outrageous costume gaily bedecked with emblems of his fraternal organizations. Ever ready with the secret handshake, Jack advertises his happiness with pennants that proclaim "B.P.O.E. Follow Me". Well, what Elk wouldn't seek fellowship with His Most High Revered Rotund Jolliness?




Jack, happy though he may have been, certainly was not a paragon of modesty. Stamped on the reverse of this card, Jack ennumerated his impressive credentials and many lodge memberships thusly:


Happy Jack Eckert
WORLD'S PRIZE FAT MAN
AGE 84 YEARS - WEIGHT 789 POUNDS
LARGEST ELK, MOOSE AND WOODMAN OF THE WORLD
B. P. O. ELKS 762, AMERIOUS, GA.
L. O. O. MOOSE 861, ALEXANDRIA, LA.
W. O. W. REESE CAMP 68, HUNTINGDON, W. VA.



But wait, there's more! According to Daniel Mannix in Freaks: We Who Are Not as Others, Jack Eckert was born in Lafayette, Indiana in 1877. Eckert started in show business at the age of ten, and quickly became a renowned fat man because there simply wasn't much else a man of his considerable girth could do.

Jack was especially proud of his prodigious belly, which hung down to his knees and measured eighty-seven inches around. In fact, Jack was so proud of his belly that patrons could choose to buy a companion photograph to the one illustrated here, which depicted Happy Jack in the same pose, but in the buff – as naked as the day he was born (apart from his white shoes and frilly sock garters).

Somehow Eckert managed to dodge the health problems suffered by most of the morbidly obese, and probably would have lived quite a long life if he hadn't been involved in a car accident while on his way to another showdate in Alabama. Happy Jack Eckert, World's Prize Fat Man, died of internal injuries in 1939 (quite a few decades shy of the age he claimed on this card).







Baby Thelma
glossy photograph from Kobel Collection, 5 x 7 inches, circa 1950 (original photo probably circa 1940)
photographer: unknown

The "fat lady" is perhaps even more of a tradition in sideshow than the fat man. One such performer is depicted here: Baby Thelma, who claimed a weight of 619 pounds at the age of 18. By 1940, when she appeared with the famous Baby Ruth Pontico, Thelma was claiming a weight of 655 pounds (probably in order to compete with Pontico's alleged 800 pounds).

Despite her size, Baby Thelma was quite popular with the fellas — as many fat ladies were. Ever the flirt, Baby Thelma was the inspiration for my Midway Rubenesque, which may be seen here.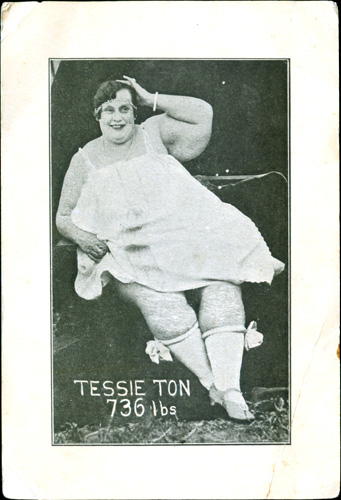 Tessie Ton
printed postcard, 6.4 x 4.25 inches, circa 1930
signed in pencil on reverse: "Tessie Ton, Weight 736"
photographer: unknown

Another of the lesser known fat ladies, Tessie Ton claimed a weight of 736 pounds.