Victorian Cigarette Card: Barnum's Freaks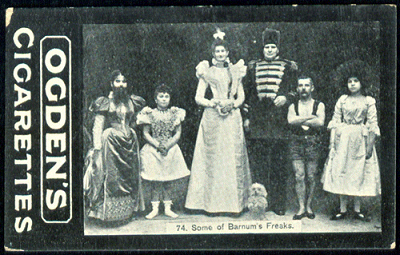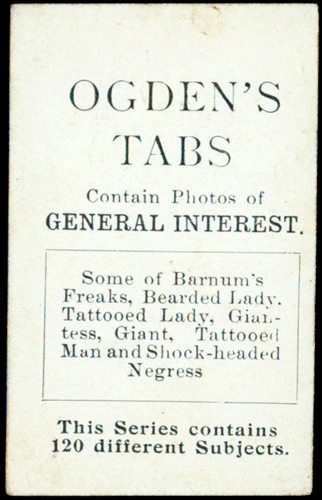 Ogden's Cigarettes card, No. 74: Some of Barnum's Freaks
real photograph trading card, slightly less than 2.5 x 1.5 inches, circa 1890
descriptive text printed on reverse
photographer: unknown

This tiny card was a novelty collectible item issued to buyers of Ogden's Cigarettes, an English brand. The front of the card features the company's brand name with a small photograph of six performers (seven, if you count the dog) and the caption "74. Some of Barnum's Freaks."

On the reverse, the following text is printed:




OGDEN'S
TABS
Contain Photos of
GENERAL INTEREST.
__________

Some of Barnum's Freaks, Bearded Lady.
Tattooed Lady, Giantess, Giant, Tattooed Man and Shock-headed Negress
__________

This Series contains 120 different Subjects.
All Images and Text © James G. Mundie 2003 - 2010