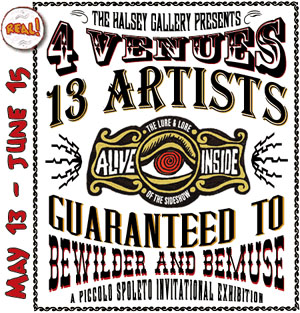 The festivities began on the evening of May 13th at the Halsey Institute of Contemporary Art in the College of Charleston's School of Art. I had flown into Charleston that afternoon, checked into my hotel, got my bearings and then headed down to the gallery a few blocks away.
Fooled by the listing in the Charleston City Paper, I arrived a bit too early but had the good fortune to finally meet curator Mark Sloan and fellow artist Kevin House. We had an hour to kill, so while Mark went off to make final preparations for the opening and change into his zoot suit, Kevin and I started to head out to get a beer.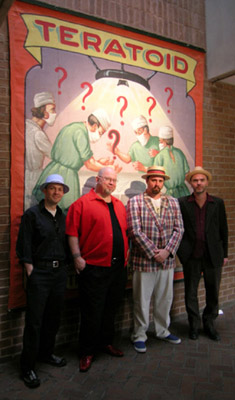 On the way out the door we met up with Jeffrey Gordon (curator of the Johnny Eck Museum), Jeff's wife Shelby, and Kevin's girlfriend Karen. As we were talking, Sideshow Bennie arrived on the scene, so it was introductions and hellos all around. Bennie declined to join us in a beverage as he needed to prepare for his performance in the courtyard that evening, so we left him there and headed around the corner — through the hordes of black robed College of Charleston graduates — to the Kicken Chicken, where we talked art and sideshow over beer and fries.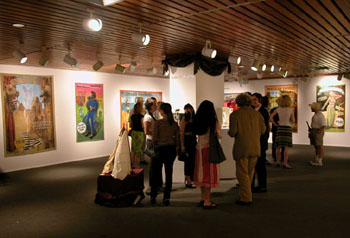 We got back to the gallery about 7:15 to find the place already packed with visitors. This portion of the show is housed in the Halsey Gallery, spread out over two floors: downstairs featured a portion of Jeff Gordon's sizeable collection of artifacts from the life of sideshow performer and all-around Renaissance man Johnny Eck, ceramic sideshow marionettes by Kurt Webb, several banners by Max Rada Dada, and Sarina Brewer's exquisite feejee mermaid; upstairs were banners by Kevin House and David Boatwright, and Andrea Mai Lekburg's intricate clothing creations for sideshow performers.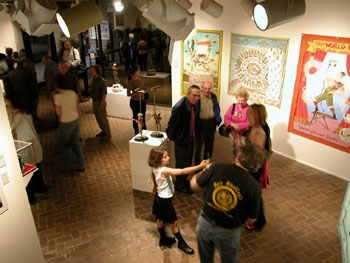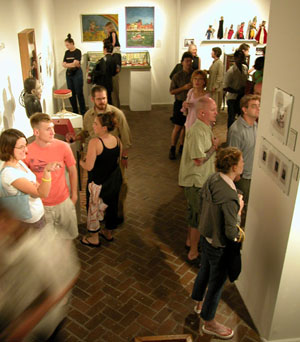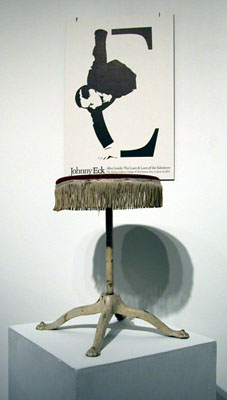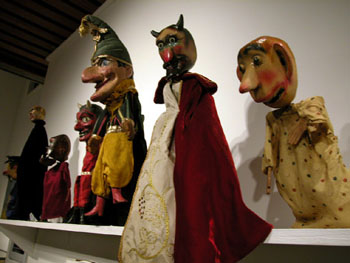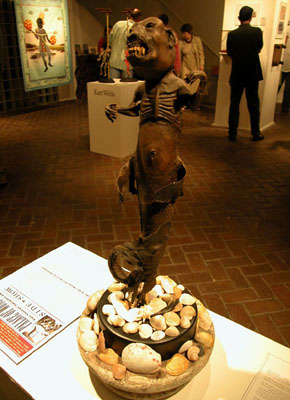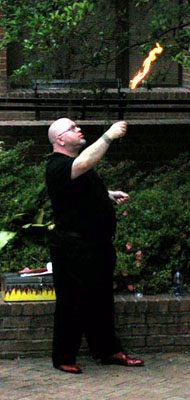 While people enjoyed the work inside, Sideshow Bennie kept the spill over crowd entertained in the courtyard by eating and blowing fire.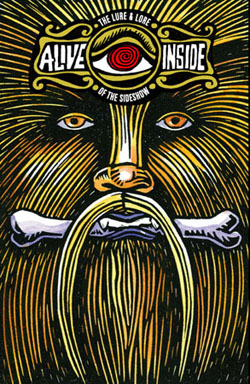 At 8:00 P.M., it was time for me to head up the road a few blocks to the Redux Contemporary Art Center. Redux is hosting seventeen of my drawings from the Prodigies series and several crptozoological creations by Sarina Brewer in the main gallery, with linocuts by Kreg Yingst and three banners by Col. J. D. Wilkes in the front gallery.

While people wandered through the galleries, a juggler performed in an adjacent room.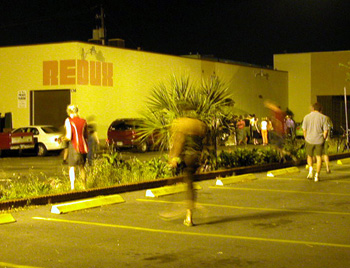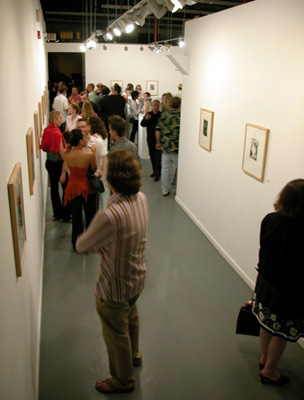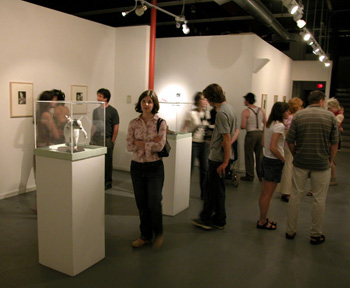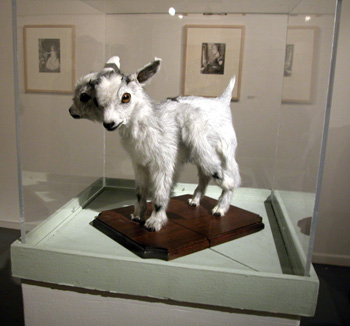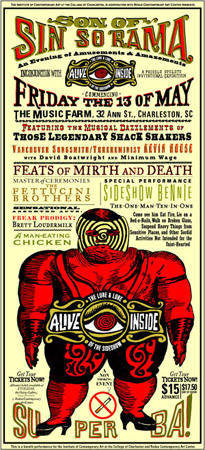 At about 9:00 p.m., I started to head towards the Music Farm on Ann Street, thinking I knew where I was going. I overshot Ann Street by many blocks, but with the help of some of Charleston's friendly citizens I eventually found the spot where Son of SinSoRama was already underway. I stood outside and chatted for a bit with Mark Sloan and his wife while teen sideshow prodigy Brett Loudermilk performed a free bally to attract a tip. Mark seemed pleased by how the whole enterprise had come together, but exhausted by all the work that had gone into making it happen. I think he was looking forward to some prolonged downtime after it was all over.
Inside, banner painter David Boatwright's band Minimum Wage was playing for a growing crowd. I got myself a beer and settled in to enjoy the show. Soon thereafter, Kevin House took the stage with his guitar and theremin.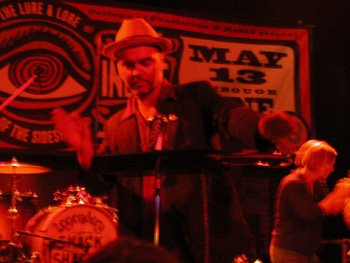 Between acts, Brett Loudermilk kept the crowd's attention. For such a young kid he is a really accomplished performer with a wide repetoire of sleight-of-hand, sideshow and escape acts. In addition to this straightjacket escape, Brett also performed on the bed of nails.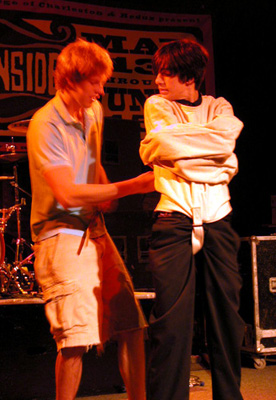 Ah, but the fun didn't stop there. Sideshow Bennie took over to abuse himself, small appliances and our nation's currency with his One-Man Ten-in-One.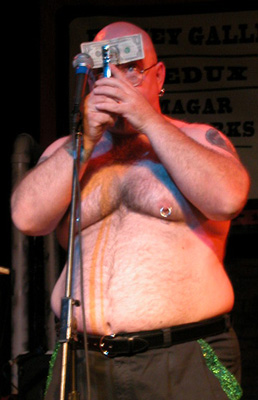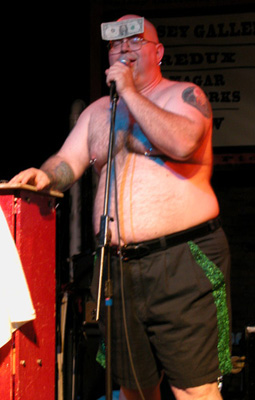 Good for all debts public and private.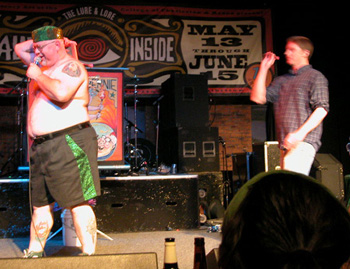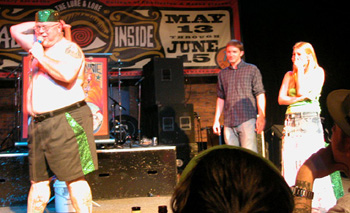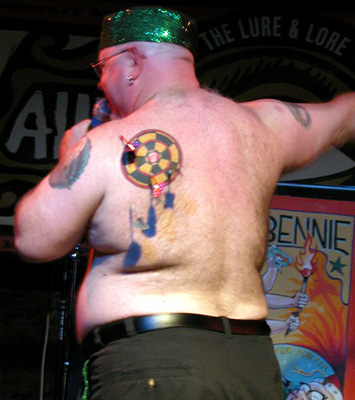 A nice grouping for Mr. Chuckles.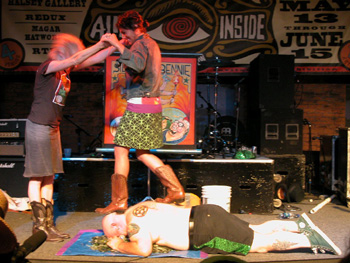 Face down in bucketload of broken glass, Bennie asks a pretty girl to add insult to injury.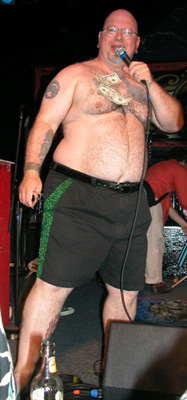 Folks, it's a hard way to make an easy living.

To finish off the night, it was the strip-the-paint-off-the-walls a'hooting-and-a'hollering of Those Legendary Shack*Shakers, who — I shouldn't have to remind you — have been called "the best damn band in America" by none other than Hank Williams III, and Hank III isn't the kind of guy to steer you wrong.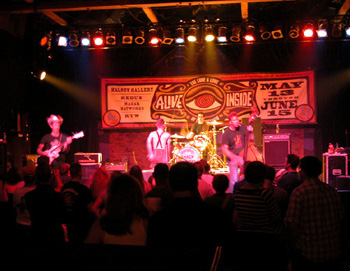 After a night of giddy sideshow debauchery, I stumbled back to my hotel about three in the morning, had a shower, and slept like a corpse for much of the next twelve hours. Charleston, I thank you.


[All photographs by James G. Mundie, except the first group photograph by Karen Lutz. The Alive Inside graphics were designed by Gil Shuler.]