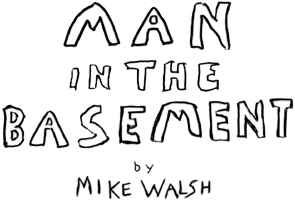 A satire of the corporate world combining Marx Brothers-style humor and corporate accounting principles with a Kafka-esque quandary. This story has been performed with a band and a humorous slide show several times in the Philadelphia area during the past year.
Contents
Section 1: Welcome to the Ajax Corporation, Shorty
Section 2: This Does Not Bode Well
Section 3: Down, Down, Down Into the Cold, Dark, Lonely Basement
Section 4: A Rapid and Tumultuous Turn of Events
Photography and scratchboard by Karl Richeson
When he started a six-month contract with the Ajax Corporation, Lloyd (aka "Shorty") had no idea that his destiny awaited him in the basement of the Ajax Building.
---
"Think of Mike Walsh's 'Man in the Basement' as a free-flowing riff lamenting corporate culture or an absurdist comedy of manners: whichever you choose, you'll find something to grab onto...Walsh's telling is bone-dry and as a squonky backup band needles him along, his assessment of the corporate world grows increasingly acid and, as fate would have it, true."
Philadelphia Weekly, 12/9/98