Albinos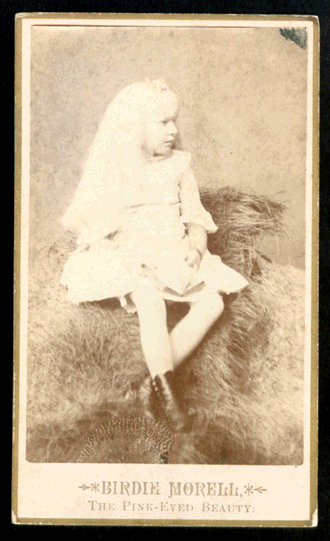 Birdie Morell, The Pink-eyed Beauty
carte de visite, 4 x 2.5 inches, circa 1884
photographer's logo stamped on reverse
photographer: Chas. Eisenmann, 229 Bowery, New York

Due to their strange appearance, albinos were frequently featured in the sideshow. This young albino girl sits with a book in her lap and upon something that looks like a haystack, or perhaps a faux grassy hillock.

This must have been taken during one of Charles Eisenmann's pastoral phases. This same prop appears in other photographs taken by Eisenmann around 1884 — where it usually appears on the floor in an attempt at a rustic motif — so that is my best guess as to the date of this portrait.



All Images and Text © James G. Mundie 2003 - 2010