Little Miracle Town at New York World's Fair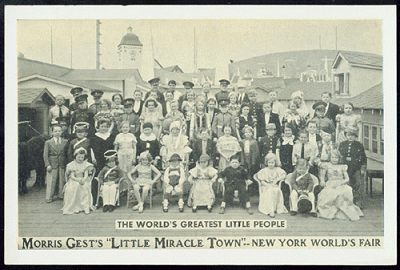 Little Miracle Town
real photograph postcard, 3 x 5 inches, circa 1939
photographer: unknown

The 1939 World's Fair in New York featured — as had the Chicago World's Fair before it — a village full of minuscule inhabitants. This time around, the tiny folks on display were gathered into their "Little Miracle Town" by showman Morris Gest — who claimed they were "The World's Greatest Little People." I have to wonder how many contenders were vying for the title around the globe, but it seems to have been a wildly successful attraction.

The gag was that the little people lived in a miniature village, with buildings to scale, and each 'citizen' went around in some sort of costume, portraying cops, bakers, postmen, etc. One fellow in the foreground is wearing lederhosen (is this perhaps Harry Doll?), so he may have been running a miniature beer garden.



All Images and Text © James G. Mundie 2003 - 2010