Misc. Pictures of Little People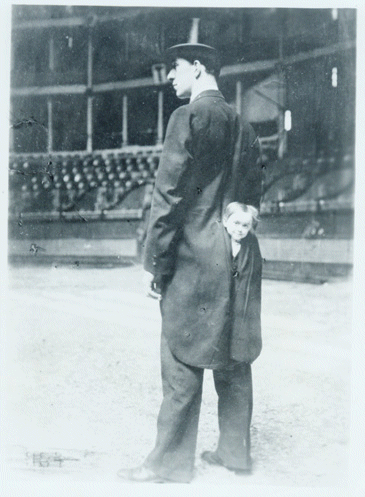 Giant George Auger and Midget Tom Sordie
glossy photograph from Kobel collection, 7 x 5 inches, circa 1950

This scene features Welsh giant George Auger (8 foot, 6 inches tall), with Tom Sordie (29 inches tall) poking his head out through the tails of Auger's coat. How exactly Sordie has suspended himself under Auger's coat I'm not quite sure, nor can I explain why he would want to do so. The original photo was probably taken about 1916, during the period when Auger worked for Barnum and Bailey.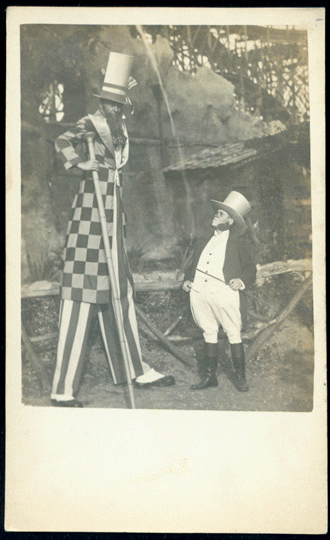 Two Unknown Circus Performers
real photograph postcard, 5.25 x 3.25 inches, circa 1905
photographer: unknown

Here's another odd photograph. A very short man in a sort of ringmaster's outfit looks up at a loudly-dressed bearded fellow on stilts. In the background ones sees some sort of elaborate scaffolding, most likely for a roller coaster. I presume this photograph was taken at Luna Park or some similar amusement center.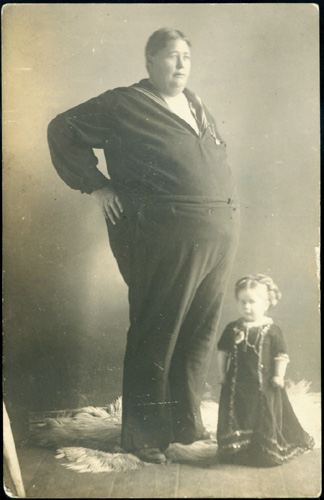 A Fat Man and a Little Woman
real photograph postcard, 5.25 x 3.25 inches, circa 1910
photographer: unknown

This photograph provides an odd study in scale, in which a rather rotund sailor (probably the fat man on staff) stands over a quite tiny dwarf woman. One hopes he doesn't maintain his weight by consuming his tiny friends!



All Images and Text © James G. Mundie 2003 - 2010