Infanta Esau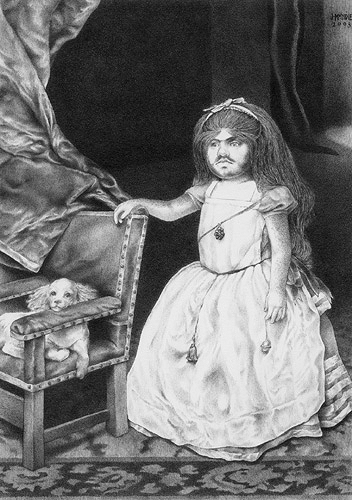 Pen and ink, 10.75 x 7.75 inches, 2003


Hairy children were — and still are — a great attraction. While the current fashion is to describe such individuals as "wolf boys" or "wolf girls" the Victorian era preferred a biblical allusion to hirsute Esau, son of Abraham and twin brother of smooth-faced Jacob. Showmen such as P.T. Barnum took their cue from the passage describing the twins' birth:



And the first came out red, all over like an hairy garment; and they called his name Esau.
(Genesis 25:25)


Those were (at least outwardly) more religious times, so hairy children, regardless of sex, were frequently advertised as "The Infant Esau." One such child was the young Annie Jones (who as a fully blossomed bearded woman is featured as the Pre-Raphaelite subject of another of my drawings, Ritratto di Annie Jones).

In this portrait, Annie poses as a wee Spanish princess after a painting by Velázquez.




All Images and Text © James G. Mundie 2003 - 2010