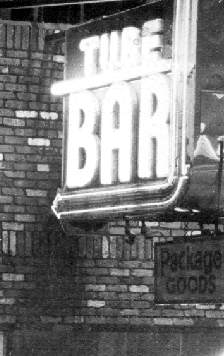 "Why don't you come down, you motherfucker cocksucker. I'll open your belly up and show you all the black stuff you got in there."
---
Tube Bar Resources on the Web:
Official Bum Bar Bastards Home Page
The original Tube Bar pranksters have surfaced with their own Web site. They also sell a tape of the Tube Bar recordings.
Detonator Records Tube Bar page
Go to this page to order a copy of the Tube Bar recordings on CD.
This page in Prantagonize contains an interview with the Tube Bar pranksters.
A fellow named Lars has a very impressive Tube Bar site, which contains a short biography of Louis 'Red' Deutsch and a complete transcript of the Tube Bar recording.
To join the Red Fan Club, write to:
Red Fan Club
c/o Milk It To Death Productions
1608 North Cahuenga Blvd, Ste. 232
Los Angeles, CA 90028
Audio samples of the Tube Bar recordings, which require the Real Audio plug-in: TubeBar Part 1, TubeBar Part 2, TubeBar Part 3 from Rep-Mart's Prank Call-O-Rama.
Tube Bar Music
A tube bar mix of I Saw Red by Warrent featuring the vocal stylings of the nutty guy who we all love--Red. By Rob Lunceford.
Jimi-J has created two excellent Tube Bar dance mixes in MP3 format: Red 2001.mp3 (3.2 mg) and Red Lives (Tube Bar Dance).mp3 (3.2 mg). And here's a short 30 second bonus: Willie's Song.mp3.
Phil Malkowski has created a Tube Bar Mix of Bruce Springsteen's song "Secret Garden.mp3." It's a really kool MP3.
A fellow named Eddie Yantis has produced a song called Mortal Combat Tube Bar Mix (395kb). Requires RealPlayer.
Scott Kemery has created a program that plays an animated file with sound of Red cursing out the Teletubbies. It's real funny. "redvsteles.exe" runs only on Windows PCs, not Macintoshes.
The Legendary Tube Bar Recording
"I'll catch you, you cocksucker,
and when I do, boy, God bless you!"
25-minutes of some of the most hilarious, profane, and spirited cursing you're ever going to hear.
Some of the world's nastiest "mother" insults.
The basis for a running joke on The Simpsons.
It features Red, a Jersey City taproom owner and legend, who was once made famous by Jimmy Breslin.
It's revered in the worlds of professional baseball and alternative music.
It's the Tube Bar, one of the most astonishing and unusual cultural artifacts you're ever likely to experience.
by Mike Walsh
---
Part 1: Introduction
What in the hell is going on?
Part 2: How the Recording Got Around
"Is this the party to whom I am speaking?"
Part 3: Red and the History of the Tube Bar
Who is Red and what did he do at the Tube Bar?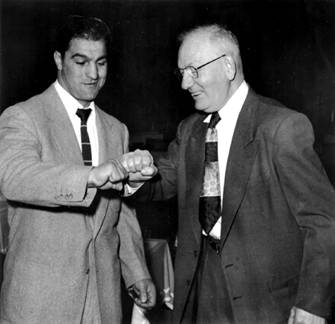 Louis 'Red' Deutsch (right) with Rocky Marciano, probably from the early '50s.
"Why you yellow rat bastard, you motherfucker, cocksucker. Your mother's been sucking my prick for many years… Why don't you come over and meet me face to face, you motherfucker… I'll meet you wherever you want."
"When I get ahold of you, I'll take two zigs outa your two cheeks. You'll remember me for the rest of your life.…"
Return to MouthWash | Return to missionCREEP