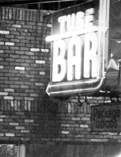 ---
"He was tough, and he feared no one... It was his place, and you were going to do what he said, and if you didn't like it, out you went. I saw him throw people out of here bodily on many occasions. Red didn't go for no shit."
Other Links:
Official Bum Bar Bastards Home Page
Interview with the Tube Bar pranksters
Biography of Louis 'Red' Deutsch
Complete transcript of the Tube Bar recording
Purchase Tube Bar CD from Detonator Records
Tube Bar Recordings on the web at Repmart.
Tube bar mix of I Saw Red by Warrent featuring you-know-who. By Rob Lunceford.
Jimi-J's Tube Bar dance mix MP3s: Red 2001 (3.2 mg), Red Lives (Tube Bar Dance) (3.2 mg), Willie's Song (30 sec. bonus track).
Mortal Combat Tube Bar Mix (395kb). Requires RealPlayer.
Secret Garden (Tube Bar Mix), an MP3 by Phil Malkowski
Back to MouthWash or missionCREEP
Email: walsh@missioncreep.com
© Mike Walsh

The Legend of the Tube Bar
Part 3: Louis "Red" Deutsch and the History of the Tube Bar
by Mike Walsh
Before I started this article, I had heard a rumor that Red was no longer to be counted among the living. However, since the Tube Bar's phone number is, for obvious reasons, unlisted, there was only one way for me to confirm the rumor. I would have to go to the Tube Bar myself. So I did, and I discovered that Red and his small taproom were legendary in Jersey City long before the Tube Bar recordings made him famous throughout the rest of the country. I also discovered that the rumor was true. Red had died in 1983.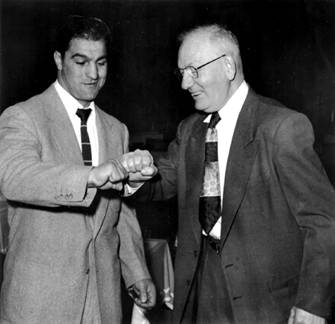 In the early '30s, Louis "Red" Deutsch operated a small fruit and vegetable stand on Journal Square, the social and shopping hub of Jersey City. Journal Square was also the area's transportation center with both a bus and a train station.
When Prohibition ended in the 1933, Red wisely decided to open a bar on Journal Square. Close to the entrance of the train station, Red named his new place the Tube Bar (after the "tubes" or tunnels under the Hudson River used by commuter trains to and from Manhattan).
It was an immediate favorite with the commuters, who stopped in for a quick drink or two on their way to or from the city. Besides its location, this "hit 'n' run joint" was, as one patron claimed, "the cheapest bar in New Jersey."
"It was a landmark," says another. "It was always mobbed. You could come in any part of the day, and it was crowded. Sometimes you couldn't even get in the front door."
Despite its popularity, the Tube Bar was very rustic. Red wasn't interested in ambiance. He was interested in selling drinks. There were no chairs, only one bathroom, and the bar was made of rough wood. Sawdust covered the floor.
Red had some unusual rules at the Tube Bar too. For instance, until the mid '70s he wouldn't allow women in the bar. Red said that his joint was "strictly for the drinking male." And unless you were drinking whiskey or mixed drinks, you couldn't stand at the bar. All beer drinking customers had to lean against one of the walls in the tiny taproom. You couldn't eat or read a newspaper at the bar either. You either drank the expensive stuff or he moved you along.
"He'd growl, 'Move down, move down' and push you away from the bar and tell you where to stand," says a longtime patron of the Tube Bar. With a frightening glare and his craggy voice, the 6' 2", 200+ pound Red had the strength and the countenance to personally enforce his demands.
"He was tough, and he feared no one," recalls a patron. "They feared him, believe me. It was his place, and you were going to do what he said, and if you didn't like it, out you went. I saw him throw people out of here bodily on many occasions, and I mean bodily. Red was a good person, but he didn't go for no shit."
Despite Red's unorthodox management style, the Tube Bar eventually made him a rich man. Legend has it that he gambled heavily, but some customers saw a different side of Red. "He helped a lot of people. He always donated money to charity," recalls a patron. "That was one thing he never refused. He was Jewish, but you'd get a Catholic nun in here to collect for St. Joseph's Home for the Blind, and Red would throw $20 or $30 dollars in the box. The man was a prince."
Jimmy Breslin's portrayal of Red as a Damon Runyon-esque character in a 1974 newspaper column only added to Red's already legendary status.
But in the early '70s, after four decades of financial prosperity for Red and the Tube Bar, a huge mass transit station was built at Journal Square. All of the new terminals were underground, so instead of facing the bus and train stops, the Tube Bar's entrance faced a narrow commuter walkway. Business fell off, and Journal Square quickly went downhill. The fancy shops and movie theaters closed down, and a rough crowd took over the streets each night.
"It became the cesspool of New Jersey," says one Tube Bar old-timer bitterly.
Well into his eighties by then, Red was just as fiesty and fierce as ever. Nevertheless, in 1980 at the age of 90, Red sold the Tube Bar and retired to Palm Beach, Florida. He died there three years later.
The new owners have since remodeled the Tube Bar, adding mirrors, a formica bar top, and bar stools. They've even swept up the sawdust.
"This is the Tube Bar by name only. The real Tube Bar is long gone," says one of the bartenders sadly. "And Red, he's in the big Tube Bar in the sky now--Tube Bar north."
Even though the persnickety old Red has passed on, he lives again every time his remarkable voice roars from our stereos. But be forewarned of Red's curse. "God help you when I get ahold of you," the real star of The Tube Bar warns the prankster. "You'll never forget me the rest of your life."
---
<< Previous Section | Tube Bar Menu | Part 1 | Part 2 | Part 3
Back to MouthWash | Back to missionCREEP